Research Paper Presentations at the 6th ICAST Conference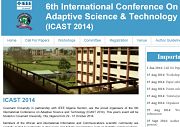 Miss Pride Nyambi, Mr Munyaradzi Kapfudza and Mr Shadreck Mudziwepasi made the list of delegates for the 2014 IEEE 6th International Conference on Adaptive Science & Technology (ICAST ) conference which was hosted by Covenant University in Ota, Nigeria. The three delegates presented papers on "Persona Mapping for Usability of ICTD Services", "GA optimization of Hybrid Energy Systems for telecommunications in marginalized rural areas", and "Assessment of a Wireless Sensor Network Based Monitoring Tool for Zero Effort Technologies: A Cattle-Health and Movement Monitoring Test Case" respectively.
Nyambi emphasized that "Despite the fact that the presentations were conducted virtually through Skype, the setting still enabled engagement with the delegates physically at the conference". The three researchers were in line with the topics of discussion and debate for the conference on satellite communications, Smart Utility Systems, Long Term Evolution networks, mobile technologies and m-health.
Article by Pride Nyambi